Gino's portraiture sculpture of McMaster President Emeritus Peter George was unveiled on Sept. 12 2014. In this work, Gino strived to capture the man behind the title through his genuine radiant smile. The article about the unveiling is from McMaster Daily News. It was reproduced here for archiving purpose only.
From McMaster Daily News
Section: On Campus
Posted date: September 12, 2014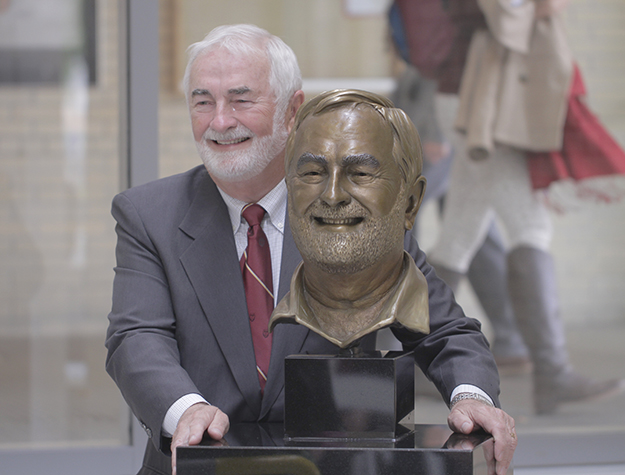 PHOTO BY ANDREW BAULCOMB
    The sculpture, located in the Student Centre atrium, is engraved with a quote taken from George's 'last lecture' delivered on campus near the end of his third term.
University honours President-Emeritus George with bust in Student Centre
McMaster unveiled a special tribute to President-Emeritus Peter George Friday.
University officials and a small group of George's friends gathered in the Student Centre's atrium to celebrate George with the placement of his bust in the building he helped champion.
The bust was a gift to the University from George's friends.
President Patrick Deane helped George unveil the sculpture. He said the bust and its new home are fitting tributes.
"We are here this morning in the McMaster University Student Centre, one of the true milestone achievements of Peter George's remarkable 15-year tenure as McMaster's chief executive," Deane told the audience. "We are here to celebrate Dr. George's legacy in a very tangible and memorable way."
The sculpture is engraved with a quote taken from George's "last lecture" delivered on campus near the end of his third term.
It reads: "Through education we gain knowledge and understanding, pose problems and provide solutions, solve mysteries and grow a sense of awe for the mysteries we can never solve. Education does not stop all wars but without it, there can be no understanding that leads to peace. It does not heal the planet but without it, we have no idea of how to begin to try. It does not right all the wrongs of the world, but makes righting wrongs more possible and more probable. I gave my life to education because there is nothing better than bearing witness to the opening of the human mind and spirit."
George spent 45 years at McMaster, retiring in 2010 after three terms as the University's President and Vice-Chancellor.
For George, building a centre on campus that students could call their own was an immediate priority upon becoming President. He led the fundraising, advocacy and planning processes to get the McMaster University Student Centre built.
The building celebrated its tenth anniversary in 2012.
During his time as President, George led the acquisition and development of the McMaster Innovation Park site, created and advanced partnerships in programming with Mohawk College and other institutions around the world, worked to establish satellite medical schools in Niagara and Waterloo and helped expand the University into downtown Hamilton and the city of Burlington.
Under his leadership, the University completed its largest fundraising campaign,  raising more than $471 million.
He has been awarded the Order of Canada, the Order of Ontario and honorary degrees from numerous universities in Canada and abroad.