http://www.independent.on.ca/site/?q=node/3568
DO YOU LOOK LIKE THE POPE?
Pope Francis look-a-like sought by world renowned artist
Post Date: 23/05/2013, 12:04
By Josh Howald
Do you have an uncanny resemblance to his Holiness, Pope Francis? Or know someone who does?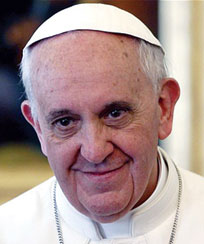 Gino Cavicchioli, the world renowned artist who has a studio in Kinloss, has plans to sculpt the Pope – but he needs a model for the early stages of his work.
"Pope Francis is remarkable," said Cavicchioli in an E-mail to The Independent. "He focuses on the very essence of Christianity. Reaching out to so many denominations, addressing concerns for the poor….a Pope even atheists can love."
Cavicchioli plans to model the Pope portrait sculpture in clay, working from photographs and with the help of a Pope Francis look-alike. That will help him to the mid-stages of the project. For the final stages, he will require a live model with the Pontiff, in order to add "intimacy, understanding, personality, heart, breath and soul to the sculpture."
He has been in touch with Fr. Robert Wong, Executive Director of the Jesuit Development Office in Toronto regarding a live sitting with Pope Francis. Though regarded as a "tall" request, the possibility of a live sitting with the Bishop of Rome does exist.
Cavicchioli, twice featured in the Kincardine Independent since he remodeled the Kinloss Church into a working studio, is widely regarded as one of the world's best artists. Recently, he was featured on a CBC special as one of the three Canadian artists shortlisted by the government to create the perfect wedding gift for Prince William and Kate Middleton. (In the end, the government decided to forget all three incredible individuals and instead give the gift of maple syrup.) Some of his recent work includes the Juravinski monument at Hamilton Health Sciences Centre, and the busts for the Canadian Football Hall of Fame.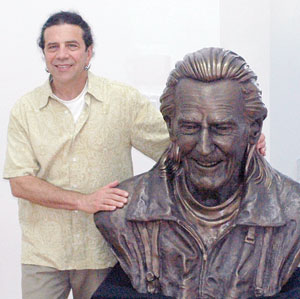 (Independent file photos/Howald)
The Pope Francis sculpture is something Cavicchioli mentioned when he first talked to The Independent as one of his life goals. It's a project very close to the heart for him – he grew up in Rome, Italy, and served as an altar boy at his local parish, and on special occasions, the Vatican. The Vatican heavily influenced his life – he knew his calling was either as an artist or a priest. The ever-present masterpieces at the Vatican stimulated his artistic passion, and he grew up admiring the portraits of Cardinals and Popes by artists like Allesandra Algardi, Lorenze Bernini and Juliano Finelli. He feels he is now ready to take on this task.
"The desire to serve the church with my work has taken me a lifetime to perfect, and reach the calibre that would aid such a purpose," he said. "The church inspiration is apparent in my art."
What he is seeking, specifically, is a gentleman in his mid-70s wtih an adequate resemblance to Pope Francis to sit for him. If you think you fit this decsription, or know somebody who does, you can contact Cavvichioili by E-mail at gino@ginocavvicchioli.com , throught his website www.ginocavicchioli.com or by telephone at 905-549-2638.
Cavicchioli has sent a request to Christ Cathedral in Hamilton for appropriate Pope Garb, as well as any suggestions on the project. Most of his work now consists of commissioned sculptures, with a number of works personally initiated, such as this one. Once completed, it will be presented to the Pope. Additional castings may be used to raise money for worthy causes, he added, like feeding the poor.