By Jeff Mahoney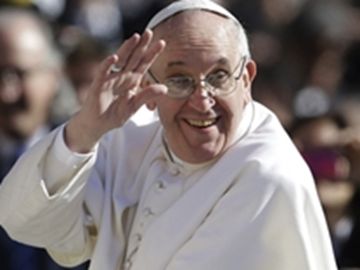 The adjective "uncanny" comes to mind as a measure of their resemblance to each other.
A colleague has described them as Popelgangers.
Who's them? The Vatican's Pope Francis and Hamilton's own Rolf Gerstenberger, president of the United Steelworkers, Local 1005.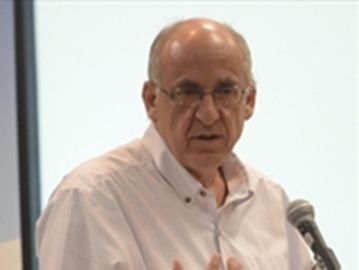 This is not just some casual likeness, contingent on catching their images at a certain angle with similar expressions.
They are almost mirrors of each other.
How much do Pope Francis and President Rolf look alike?
I'll tell you. Hamilton sculptor Gino Cavicchioli has been looking for a model to sit for the preliminary stages of a bust he is doing of Pope Francis.
Not having much luck finding one, he approached me for help, so we ran a column on his interesting hunt. It appeared Wednesday.
On Thursday, I got an email from reader Douglas Rich. It said, among other things: "I could not help but note the uncanny resemblance of His Holiness and L. U. 1005 president Rolf Gerstenberger. Though Mr. Gerstenberger's political beliefs can be somewhat doctrinaire, I am sure he would set these aside if the Pope met him halfway on a few social issues."
As soon as I began to read the letters of Rolf's name in the email, two images began to form and then harmonize in my visual memory. I found myself smiling reflexively, the way you do when, out of randomness, things seem to magically correspond, like pieces of a puzzle or a musical resolution.
I did an image search of each man on the Internet and my instinctive impression was confirmed. These two might have been separated at birth, though Pope Francis does look somewhat older.
So I contacted our sculptor Gino to let him know, and he beat me to the bell. He told me that, strikingly, of the two dozen responses he received as a result of the column, no fewer than eight were about Rolf. So Douglas wasn't the only one to pick up on the similarity.
"I called Rolf this morning," Gino said Thursday, "and requested he sit for me. After uncontrollable extended laughter, he promised to think about it. I pray he accepts."
The men are not exactly two of a kind. Pope Francis heads one of the world's largest faith groups. Rolf is a prominent member of the Communist Party of Canada (Marxist-Leninist) and so, presumably, does not believe in God (Marx said religion is the "opiate of the masses"). He holds a master's degree in theoretical physics from McMaster University.
But they might not be irreconcilably far apart. Pope Francis earlier this month suggested that good deeds can get even atheists into heaven. And they both have expressed strong convictions about social justice.
I wasn't able to reach Rolf as of press time, but his colleague Gary Howe, vice-president Local 1005, tells me that the similarity has come up before. "Oh, all the time," says Gary.
Gino says he agrees that Rolf is perfect for the role and playfully points out that he would even forego the playing of Gregorian chants during the sittings if Rolf objected to them.
Whatever the upshot of all this, if Gino ever sets out to sculpt a likeness of Rolf, he already knows where he can find someone to sit for him.
905-526-3306